1010 Naglergasse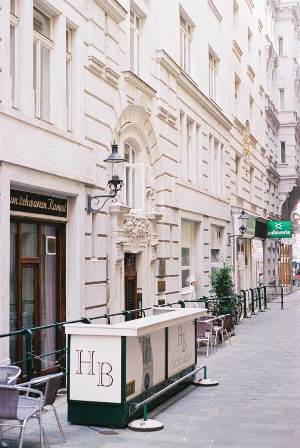 Located in the "Golden Quarter", the most fashionable spot of the 1rst district, the around 1900 established apartment buidling houses besides modern offices and well equipped apartments also the legendary restaurant "Zum Schwarzen Kameel".
1040 Brucknerstrasse - Click here for a 360° view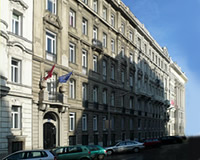 Adjacent to Schwarzenbergplatz and vis-à-vis the French Embassy, the Rothschild Trust had this elegant city palace built in 1907 according to plans from the reputable architect Julius Goldschläger. It was Goldschläger's achievement to combine the aesthetic demands of the Viennese "fin-de-siecle" bourgeoisie with modern functionality and room design.
A very rich façade and an opulent foyer lead the way to a magnificent staircase. An elevator with forged iron and polished crystal windows gently moves you upwards. This building is well-known among connoisseurs as one of the best addresses in the city. With 7 floors and a surface of 3.500 m² it houses exclusive offices and apartments today.

1040 Rienößlgasse - Have a walk-through to this outstanding Top 12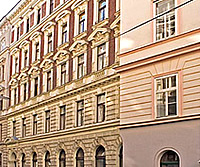 Click here for a 360° view
This fine example of "Gründerzeit" bourgeois architecture built in 1891 is located in the trendy and booming Freihausviertel. A richly decorated and ample staircase opens up to 4 floors, each housing 2 symmetric apartments. The available 900 m² are dedicated for apartments. 2012 two luxurious apartments have been built in the attic.



1040 Waaggasse 5 - Have a walk-through to this outstanding Top 22

Located vis-à-vis the Palais Colloredo in the Freihausviertel, this house is a typical example of Biedermeier architecture. Although built in 1835, the foundations go back to a 15th century cloister, destroyed during both Turkish invasions. The façade has been historically renovated using the typical colour schemes of the Biedermeier. During the last 20 years this building has been thoroughly renovated to provide modern living standards, while keeping the original atmosphere. Modern apartments and offices are housed on the 4 floors. 2012 six luxurious apartments between 125 m² and 216 m², each with terraces and or balconies and atriums have been finished in the attic.

1130 Hietzing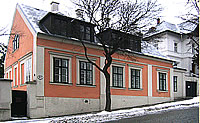 This classic Viennese house has been constructed nearby Schönbrunn Palace in the late 19th century. The property is located in the quiet part of the "Hietzinger Cottage". The house with a surface of 220 m² was renovated in 2004. The spacious living and dining room, a fully equipped designer-kitchen, 4 bedrooms, 3 bathrooms, several spare rooms, a large cellar and a garage provide a high standard of living comfort. The 1000 m² garden with old trees is an ideal oasis of silence and recreation.

1190 Döbling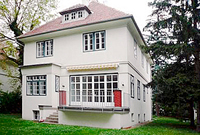 This house constructed about 1930 is situated in the renowned "Döblinger Cottage". On 230 m² you find a spacious living and dining room, a well equipped large kitchen, a terrace with access to the garden, 5 bedrooms, 3 bathrooms, several spare rooms and lot of storage room in the cellar. In the 600 m² garden with old trees is also a car-port.


1190 Wien Döbling, Pyrkergasse
The best position in Döbling this just completely renovated Biedermeier house is an oasis of calm. It has 3 luxurious residential units and a 600 m² large, peaceful garden with beautiful old trees and swimming pool.
The proximity to the American school and an excellent infrastructure (shopping / health / recreation) increase the attractiveness of this property.
---
By focusing on the core competence Real Estate Wealth Management and in cooperation with reputed and independent Partners, we develop individually tailored solutions to our customer's demands.

Buy or Lease
We provide comprehensive support and assistance to the international community in their search for their specific real estate property, be it for purchase or lease.

Austrian lease laws provide extensive protection to the tenant and therefore make long term lease contracts, especially in the inner city districts of Vienna a very attractive alternative to buying.