1040, Schwarzenbergplatz
Storage rooms available:
A1 size: 12,79 m² € 128,66
A2: size. 7,28 m² € 73,25
A3. size. 9,44 m² € 94,98
details...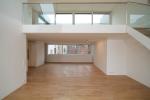 1040 Freihausviertel Waaggasse 5
Have a walk-through to this outstanding Top 22
3 rooms, 152 m², terrace. This spacious and modern apartment in a well-kept Biedermeier house has been recently built to the highest standards. A substantial balcony, a large terrace and fantastic luminosity throughout, make this apartment a true must-see. Furthermore it provides immaculate entertainment spaces due to its generous room layout, an additional benefit being its perfect location in the coveted Freihaus neighbourhood. Within walking distance you can find many art galleries, trendy restaurants, bars and cultural institutions such as Secession, Kunsthalle, Musikverein, State Opera, Theater an der Wien etc.
Transport links include the subway station Taubstummengasse (U1), Kettenbrückengasse (U4), tram no.1, 62, Bus 59A and Badener Bahn. The transport nodal point of Karlsplatz and Hauptbahnhof are 2 stops away; Schwechat airport is 20 mins. by car.
Secure private parking spaces are available within the property.
Net rent: € 2.300,00; running costs: € 418,62; VAT: € 271,86; total rent: € 2.990,48.
Deposit: € 9.000,00
Parking place: € 115,-- + 20% VAT: € 23,--, total rent: € 138,--
Energy class: B, HWB 46,6 kWh/m²a
details...
Charming apartment! In this in 1891 built apartment house there will be a 3-bedroom apartemnt available for rent. The "Freihausviertel" with its posh and trendy environment (galleries, restaurants, designer-boutiques) ist a neighbourhood in high demand. Excellent access to public transport provided by subway lines U1, U4, tram 1, 62 Bus 59 A, stations "Karlsplatz" and "Hauptbahnhof", motorways and Vienna Airport are within easy reach.
Parking place available upon request.
details...